Contre les Lois Anti-Chiens / Against Anti-Dogs Laws
Dans divers pays du monde des lois répressivessont mises en place pour interdire
ou limiter la possession de certaines races de chiens, allant même jusqu'à vouloir détruire ces races!
In several countries repressive anti-dogs laws have spread to forbid or limit the ownership
of certain breeds of dogs, going as far as wanting to destroy these breeds!
---
CE SITE EST EN CONSTRUCTION (REVENEZ SOUVENT) / THIS SITE IS UNDER CONSTRUCTION (COME BACK OFTEN)
Mise à jour / Updated : 15/05/2001 Annonce de Chiens en Danger / Chiens en Danger announcement..
---
Chiens en Danger

Une Association est née: Chiens en Danger / An Association is born: Chiens en Danger (Endangered Dogs):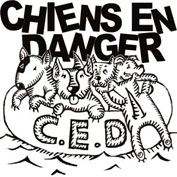 ---
AU NOM DE LA SECURITE UNE CHIENNE ROTTWEILER RISQUE LA PEINE DE MORT !!!
Le Préfet a décidé qu'elle devait mourir!
Seule une grâce Présidentielle peut la sauver... ainsi peut-être que vos signatures!!!
Signez la pétition
---
Nouveau Rassemblement Européen /New European meeting
Reporté à une date inconnue / Postponed to an unknown date
---
Lettre pour empêcher le Staffordshire Bull Terrier de passer en 2ème catégorie / Letter to prevent the Staffordshire Bull Terrier to be classified in the list of dangerous dogs.
Cette opération est maintenant terminée, une lettre a été envoyée par les Minsitère précisant que le Staffordshire Bull Terrier n'était pas en 2ème catégorie / This operation is now finished, the Minister has sent a letter precising that the Staffordshire Bull Terrier was not enlisted.
UN GRAND MERCI A TOUS! / A GREAT THANK YOU TO ALL!
Voir la lettre / Look at the letter
Seconde lettre (plus explicite) / Second letter (more explicit)
Réponse à la question écrite à l'Assemblée Nationale de Madame Idrac par le Ministre de l'Intérieur extrait du J.O. du 05/02 / Response of the Inner Minister to Mrs Idrac at the French Parliament extract of the official publication dated 05 February
Vous pouvez toujours envoyer une lettre aux personnes suivantes pour leur dire ce que vous pensez de la loi anti-chiens Française / You can still send a letter to the following persons to tell them what you think about the French BSL.
Home Office:
Ministère de l'intérieur
Daniel VAILLANT
place Beauvau
75008 PARIS
e-mail:sirp@cybercable.fr
Avec copies à: / With copies to:
Prime Minister:
Hotel Matignon
Lionel JOSPIN
57 rue de Varenne
75007 PARIS
e-mail:premier-ministre@premier-ministre.gouv.fr

Agriculture Department:
Ministère de l'agriculture
Jean GLAVANY
78 rue de Varenne
75349 PARIS
e-mail:jean.glavany@agriculture.gouv.fr



---
La même loi version html / The same law html version
(Nous ne savons pas combien de temps ce lien va durer!) / (We don't know how long this link will remain!)


Liste des races visées / List of affected breeds
1ère catégorie / first category:

Pit-bulls
Boerbulls
chiens assimilables aux American Staffordshire Terrier, Staffordshire Terrier, Tosa sans être inscrits à un livre généalogique / dogs looking like AST, ST, Tosa without recognized stud book registration.

2ème catégorie:

Staffordshire Terrier (inscrits / registered)
American Staffordshire Terrier (inscrits / registered)
Rottweiler (inscrits / registered)
Tosa (inscrits / registered)
Chiens assimilables aux chiens Rottweiler sans être inscrits à un livre généalogique / Rottweilers without registration
---
Enquête / Survey
Le précédent serveur n'est plus accessible / The preceding sever is no more accessible:
Résultats / Results: Sur plus de 700 réponses 79% ont trouvé la loi Trés Imbécile / On more than 700 responses 79% found the law Very Imbecilic
Nouvelle Enquête / New Survey
Qu'en pensez vous? / What do you think?
Que pensez-vous de ce type de lois condamnant des chiens à cause de leur race? / What do you think about BSL?
Pensez-vous que cette loi va règler les problèmes de société? / Do you think this law is able to solve society problems?
Non / No
Oui / Yes
Je ne sais pas / I don't know
---
Cahier de Doléances / List of Grievances
Voyez ce qu'ils pensent de ces lois! / Look what they think about these laws!

Ecrivez ce que vous pensez de ces lois! / Write what you think about these laws!
---
Pétitions-Manifestations de mécontentement / Petitions-signs of discontent
---
Petition contre la Loi Sarre / Petition against the Sarre Law (French BSL)
---
---
Etoile jaune pour manifester votre désapprobation / Yellow star to manifest your disapproval
La même en noir et blanc / The same in black and white
---
Ecrivez directement à un responsable de cetteLoi / Write directly to one of the responsibles of this Law
Ecrivez au Premier Ministre ce que vous pensez de la loi "Sarre" ou Loi Anti-Chiens / Write to the French Prime Minister what you think about the French Anti-Dogs Law
Lionel Jospin
57 rue de Varenne
75700 PARIS
Tél: / Phone: 01 42 75 80 00
Ecrivez ou téléphonez à celui dont la Loi porte le nom / Write or phone to the one whose name was given to the Law
Désolé e-mail inconnu pour l'instant / Sorry e-mail unknown for the moment
Georges Sarre
2 rue Jules Verne
75011 PARIS
Tél: / Phone: 01 47 00 60 13
Vous pouvez également écrire à un parlementaire, un grand ennemi des chiens: André SANTINI / You can write to a member of parliament, dogs's great enemy:André SANTINI
André Santini
13 Avenue Jean Monnet
92130 ISSY LES MOULINEAUX
Tél (député appel gratuit): / Phone (deputy number toll free call): 0 800 44 71 71
Tél: / Phone: 01 46 42 65 98
---
---
En Allemagne on chasse les chiens dans les rues! / In Germany they are chasing dogs in the streets!

Plusieurs races vont être totalement interdites! / Several breeds are totally forbidden!

Le Ministre Otto Schily veut étendre l'interdiction à tous des pays de l'Union Eurpéenne! / Minister Otto Schily wants to extent the ban all over the European Union!

This The Dog Holocaust webring site owned by C.L.A.C..
[ Previous 5 Sites | Previous | Next | Next 5 Sites | Random Site | List Sites ]
---
---
Horreurs! (témoignages trouvés sur le Net) / Horrors! (witnesses found on the Net)
Pas réellement en rapport avec les lois, mais il faut bien s'occuperdes animaux dans le besoin puisque la SPA préfère se "féliciter du vote" d'une loi qui va provoquer la mort de milliers de chiens plutôtque de faire ce pourquoi elle a été créée!
Not really related to laws, but it is necessary to take care of animalsin need because the French SPA prefers to be pleased with the vote of a law which will provoque the death of thousands of dogs instead of making what it has been made for!

---
Ce site revendique son droit à l'existence en se réfèrant à l'article 19 de la "Déclaration Universelle des Droits de l'Homme"
"Tout individu a droit à la liberté d'opinion et d'expression, ce qui implique le droit de ne pas être inquiété pour ses opinions et celui de chercher, de recevoir et de répandre, sans considération de frontières, les informations et les idées par quelque moyen d'expression que ce soit."

This site claims the right to exist referring to the article19 of the "Universal Declaration of Human Rights" .
" Everyone has the right to freedom of opinion and expression; this right includes freedom to hold opinions without interference and to seek, receive and impart information and ideas through any media and regardless of frontiers."

---
E-mail : clac@chez.com

---
Ce site appartient au "Webring" Ruban Rouge contre la Haine envers les Chiens / This site belongs to the Red Ribbon Against Dog Hatred "Webring".

---
This "Red Ribbon Webring" site is owned by: C.L.A.C.
[ Previous | Next | Random | List all ]
[ Click to join the "Red Ribbon Against Do Hatred" Webring! ]
---